Holly and Luna's Big Adventure (as told by Holly)
I knew something was up. First one suitcase on the floor. Then another, then another. I mean, I'm not complaining. Those suitcases make for good scratching posts. But usually, after they are out, my mom takes off for a while and leaves my sister and me alone with the pet sitter.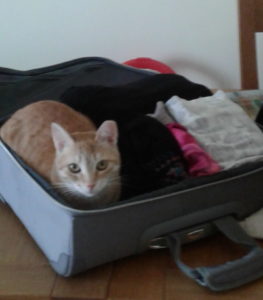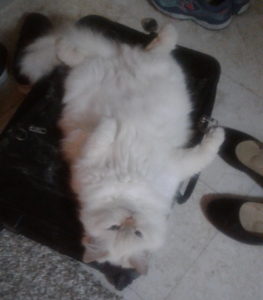 But this time, she didn't leave. Instead, our grandma also came to visit. That was a nice surprise. I was super happy to have so much attention. My sister Luna was pretty content as well. We had no idea we were about to go on a big adventure.

It started with a car ride – not my favorite place to be, so I started meowing in protest, but then I got petted and I felt better. My mom said we were heading to a place called Dubai.

When we reached Dubai, there were a lot of people around. I'm a social cat – I like new people – but this place was a little overwhelming even for me. I've never seen so many humans all in one place!

I learned lots of new human words on my adventure. The first was called 'check in'. At this place, all the humans just stood around with suitcases while Luna and I stayed in our carriers.

This check in thing seemed to frustrate my family and the other humans standing near us. We were moving very slowly, and were in line for an hour – due to an error on the part of the workers there, we later realized. I could tell the humans in line were getting annoyed.

It was starting to get a bit warm as well. I don't mind being warm – I'm a desert cat. I'll crawl under a warm comforter to take my naps, even in the summer time with sunshine coming through the window. My sister Luna, however, had a bit more trouble than I did. She's a Himalayan – she's got a thick winter coat. It also seemed to upset her when the humans in line started complaining loudly.

Luna started panting, which made my mom very nervous. It was unclear whether Luna was hot or stressed, or both, but when my mom offered Greenies treats Luna ate them without hesitation.

The treats and attention seemed to distract and calm Luna. My mom also opened one of the expandable sides of the carriers (thank goodness for those expandable mesh sides that let us stretch our legs and get some fresh air! Check out my cool carrier in the picture.), and offered some water. Luna improved, but would still be very nervous when there were too many humans around, so my mom worried about her the whole trip.




I, on the other hand, was pretty easy going. I was quiet most of the time, which surprised my mom and my grandma. I'll admit it, I can be noisy at times. And a bit, um… independent, feisty, mischievous… at times as well.

Which brings us to the next challenge. The security checks. The lines for the human passport control and security checks moved quickly, but we ran into one snare. We were told that my sister and I had to come out of the carriers. The carriers would be scanned in the big machine, and our humans would have to carry us when they went through something called a 'metal detector'.

My mom asked about a separate area where we could go, such as a private room. She told them my sister and I were scared. No one was sympathetic, and they all repeated the same answer. My mom seemed annoyed, but unfortunately there was nothing else she could do.

So, we got the whole thing over with as quickly as possible. My mom and grandma put their bags and our carriers into the moving buckets. Then, at the last minute before the carriers went up the ramp and through the big machine, they took us out and held us in their arms.

As the mischievous one, I received my mom's full attention. My sister, on the other hand, is pretty calm and easy-going, and my grandma carried her.

Well, what can I say? I was curious to explore, but I was also so shocked to see all the people that I just held still and looked around when my mom took me out of my carrier. She held me close and petted me, and I felt a bit calmer.

My mom was ready to walk through the metal detector, but the human there was chatting to someone else and wasn't paying attention. My mom kept calling, "Excuse me. Excuse me, can we come through, please? Excuse me!?" Eventually the human turned around, seemed very surprised to see me, and motioned for us to come through.

Well, I was a good girl, or so my mom tells me. I made it through and back into my carrier without incident. My sister Luna was a champ as well.

After a short walk, we reached a part of the building that wasn't so crowded. All four of us were relieved. We found a quiet area where all the seats were empty and there was a good air flow, and we settled down to relax for a little while. My mom and grandma opened the expandable sides of our carriers, and they gave us more water and treats.

I'm not completely clear on what happened next. It was the strangest thing. My mom called it a 'plane'.

We walked down a few more hallways, and then finally to a very narrow space with seats on both sides. We were at the very last seats. Initially they had to place my sister and me under the seats (oh the indignity!). However, after some loud noises and a bit of popping in my ears, they were able to keep us in their laps.

We had to stay in the carriers, but thanks to the expandable sides we had plenty of room to stretch – more room than my mom and grandma had! They also opened the sides a little bit to pet us and offer us food and water.

Sometimes we stayed on our humans' laps, and other times we stayed on the floor and just slept. It was dark and the plane made a constant humming noise in the background. It was actually a pretty good place to sleep.

I only meowed a couple of times, and it was a quiet meow – my mom and grandma could barely hear the meow even though they were sitting directly above me. I must say I was much quieter than any crying baby! I was a good girl and didn't disrupt anybody. Luna, of course, was also a good girl. She's usually happy as long as someone is petting her.

After a few hours (6.5 hours my mom tells me), we arrived at a place called Frankfurt. It was early in the morning, so it was very quiet at this airport. We immediately appreciated the quiet compared to our last airport experience. However, we still weren't excited about having to spend 7.5 hours there…

But good news! My grandma had reserved a room at a pet-friendly hotel just across from the airport.

My mom was a bit worried they wouldn't let us go to the hotel since my sister Luna and I were there – we had to go through passport control, and my sister and I had paperwork to enter the US, not the EU. However, the hotel was connected to the airport via a walkway, and once we showed them our ongoing tickets, they had no problem with us going to the hotel to rest for a few hours. We really appreciated that!

All four of us were so happy to be at the hotel. It was pure bliss compared to carrying bags around the airport and sitting on the floor in our carriers.

Luna and I immediately came out to explore. We used our litter boxes (we hadn't used them on the plane even though my mom and grandma offered), then ate and drank some more. We also had some play time – our humans brought our favorite toys, so we chased them around a little bit.

After that my mom and grandma settled down for a long nap. Luna and I went to join them, and we all had a much-needed rest.

Eventually it was time to organize and get back to the airport. The first plane ride was a warm up for the longer, second flight, which would be 10 hours.

As soon as we walked back to the terminal, it was obvious we were in a pet friendly place. There were some dogs walking on leashes, and some other cats in carriers. We had to do a brief check in, but it was very fast.

We had to go through a security check again. My mom was nervous that we would have a repeat of last time, although at least here it was less crowded.

However, the humans working there pleasantly surprised my mom. As soon as they saw my sister and me, they asked us all to come to a private room for screening.

Inside of the room, we had to come out of the carriers again, but we weren't nervous at all. It was quiet and there was no risk of my sister or me trying to run away. There were such nice humans working there! They even offered to bring a bandage for my grandma, who had a papercut on her finger. I heard my mom say that Frankfurt is quickly becoming her favorite airport.

The second plane ride was very, very long. However, it was uneventful just like the first. At the end, the flight attendant even commented on how good and quiet my sister and I had been.

In Denver, our grandpa was waiting to pick us up at the airport. However, first we had to go through one more line called 'customs and immigration'. Since my sister and I were there, we were put into the line for declarations. Thankfully we could stay in our carriers while they checked our vaccine information.

As a final step, all of the big suitcases had to be scanned. My mom forgot about the altitude difference when she lifted all of the suitcases off of the moving belt and stacked them onto a luggage rack, so she started feeling light-headed. Fortunately the nice human at the declarations line helped her to put them onto the scanner and then restack them at the end.

At this point, all four of us were pretty tired. It was a long journey, but just a short drive and we arrived at our new home. My sister and I got some food and water, then immediately started exploring our new room. I could tell there were other cats around, but it would be a little more time before I really started to get to know them. For the moment, we were all content to cuddle up and have a good night's sleep.






Acknowledgements:

Holly and Luna would like to give four paws up to Lufthansa airways for letting them fly in the cabin with their family, to the Frankfurt Airport for their professional and kind handling of pets, to the Sheraton Hotel at the Frankfurt Airport for being so pet friendly, and to the efficient and friendly customs office at the Denver International Airport. Also a big thank you to all of the nice humans who helped us along the way!