Vegetarian Restaurants
While traveling, it's easy to see that some cities are vegetarian friendly - such as Boulder, Colorado, which has dozens of vegetarian and vegan restaurants from which to choose - while others are not. In some corners of the world, it can be much trickier to find a decent vegetarian option. This was especially true in parts of Southeast Asia, where often I asked about vegetarian options only to be asked in return, "You're vegetarian. But... do you still eat chicken?"

Actually, living in Abu Dhabi also wasn't particularly convenient for a vegetarian, either. Thankfully there were a lot of Indian restaurants that carried healthy, balanced veggie and lentil based dishes, but for many other cafes and restaurants, all too often the obligatory vegetarian meal on offer was some sort of extra greasy cheese sandwich.

I understand that, for many parts of the world, a vegetarian diet just isn't the norm, and I don't expect them to change that just because tourists and expats come there. However, when I did find some restaurants that offered a variety of good vegetarian dishes, I really appreciated it. It made it much easier for me during my travels, and I tried some really delicious foods!

I thought I'd start keeping a list for myself of the good vegetarian and vegan restaurants I tried while traveling and living abroad. I hope others will find it useful as well!



Cambodia – Siem Reap

Navy Khmer Kitchen

Most restaurants I encountered in Cambodia were able to make a vegetarian option, but often it was a standard vegetable stir fry, without the Khmer flavors. I felt like I was missing out on the opportunity to try some of the local dishes. So I was super happy to find this restaurant, which offered vegetarian versions of some of the most popular Khmer foods, including the Amok, a coconut based curry.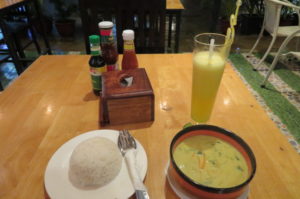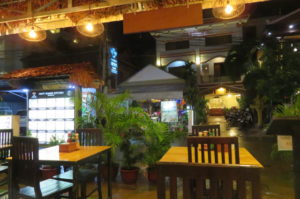 Malaysia - Kuala Lumpur

Bumbu Desa

An Indonesian chain located on the upper floor of KLCC. While it serves meat dishes, there were a lot of vegetarian options available, and the waiter went out of his way to help me find them. Besides the delicious peanut curry dish that I tried, I especially liked this restaurant because it offered really good tempeh. I had tried buying and cooking tempeh myself at home– and it's ok, but I didn't think much of it. However, this Indonesian style tempeh was outstanding! It was seasoned perfectly and really crispy on the outside.

Be sure to also try the cendol, a sweet drink made from coconut milk. It has rice flour jellies in it to drink via a large straw, making it similar to bubble tea in feel and taste.





Malaysia – Georgetown

Street food

There are many famous street food carts in Georgetown. My hotel recommended two on the lively Chulia Street to find vegetarian options. Unfortunately I couldn't catch their names (there were no signs or business cards), but these places were super popular! They stayed busy pretty much the whole evening, frequently running out of chairs so that people either sat down together with people they didn't know, or had to stand to eat their food.

I got a traditional noodle dish, made vegetarian on request. As is common in Malaysia, there was also fresh juice on offer– a woman from a neighboring juice stand worked with them to come around and take drink orders after each person ordered food at the stand.





Slovenia – Bled

Zaziv Vegan Bar

Just up the hill from the beautiful lake is a vegan burger restaurant that also offers fresh juices. Unfortunately I don't have a picture available, but I thoroughly enjoyed the courgette and pumpkin burger!


Vietnam – Hanoi

Thai Express

A chain restaurant, but they had a good variety, with some things I had never tried before. I had the claypot glass noodles with tofu and braised mushrooms.





Vietnam – Ho Chi Minh City

Phuong Mai Vegetarian Restaurant and Art Cafe

Phuong Mai is a vegetarian restaurant with many vegan options, located right next to Ben Thanh Market. They serve vegetarian versions of lots of Vietnamese and other Southeast Asian dishes, including Singapore noodles. Unfortunately I don't have a picture here (I was entranced by my food and forgot to take one!), but I should mention they also feature beautiful art on the walls from local artists!


Vietnam - Hoi An

Vy's Market Restaurant and Cooking School

This was one of the highlights of my time in Vietnam. We got to learn how to cook a lot of traditional Vietnamese dishes, with recipes to take home. They were definitely ready to accommodate vegetarians, and had alternative ingredients prepared for me. At the end, there is an opportunity to try some of the more adventurous Vietnamese cuisine (cooked silk worms, pig ears, etc), and as a vegetarian I had a good excuse not to eat them!





Vietnam – Hoi An

Quan Chay

Vegetarian restaurant near the Ancient Town. Great food and a lot of choices!





Vietnam – Hoi An

The Chum

Another great vegetarian option near Ancient Town, and the owner is super nice!