How I Dress for Long Flights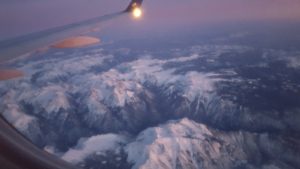 I love to travel! Living overseas granted me the amazing opportunity to explore more of the world.

However, as much as I love seeing new places, I have to admit that long plane rides and airport transits can get pretty tiring.

I admire those women who get really dressed up for plane travel, and manage to navigate long airport walks in 3-inch high heels.

I admire them – but, I can't do what they do. Maybe I can pull it off for a short flight within the US, but not for multiple transits or flights longer than 10 hours.

Another consideration for long-haul, international flights: it's not always easy to get up and walk around or stretch your legs. This is especially true if you're in a window or middle seat, but even the aisle seats have restrictions – I've been on some flights where the turbulence kept everyone seated more often than not.

So, look at the flight length, and assume you'll be sitting for at least 90% of that time – if not longer – and dress accordingly.

Things such as neck pillows can help in terms of comfort– but for me, the most important thing is to start with my wardrobe. In order to do so, there are a few factors I always consider:


Circulation and Ease of Movement

A plane ride of less than five hours is pretty forgiving. However, longer flights can get very uncomfortable, especially once you get into the 10-15 hour range.

Knit, stretchy fabrics with breathability provide the most comfort.

I've found leggings to be my best bet, along with a longer length shirt or tunic.
My favorite leggings: Tommie Copper. My family introduced me to this brand, which provides light compression, as well as copper infused into the fabric. It was designed to help people recover from injuries, but I've found it's really comfortable for long flights.

Bonus: if I'm expecting cooler weather, I'll also sport a Tommie Copper shirt and socks, along with a long sweater (I'm not one to do the leggings-with-a-short-shirt look).
If you don't like leggings, at least consider getting a good pair of full-length compression socks– they'll be your new best friends during a long flight, and your legs will feel more comfortable when you arrive at your destination.


Temperature

Long distance travel always seems to be filled with dualities– going from one extreme to another.

Sometimes I get hot having to jog through an airport to make a tight connection… or taking a bus between the terminal gate and plane in Abu Dhabi when it's well over 100 degrees outside.

Then, after I'm all sweaty, the plane a/c kicks in, and the flight path takes us close to the Arctic circle– and suddenly I'm freezing cold.

A plane's temperature can be difficult to predict– even on the same airline and a similar route, I've had some flights where I'm comfortable without a blanket, and some flights where I'm still cold even with a winter coat and blanket on. I've never really figured out what causes these differences.

Due to all the unpredictability, layers have become my friend.

As described above, I like to have a base layer of comfortable pants/leggings with a tee or tank. Then I usually have a medium-thickness sweater or fleece I can throw on.

I like for the shirts to be longer length whenever possible. In addition to more modesty with leggings, it has the benefit of making me feel like I'm wrapped up in another layer of blankets.

I'll also carry on a medium-weight scarf, and warm, fuzzy socks that don't take up too much room in my bag.

If a heavier jacket is needed, arriving at or leaving a cold destination: it can be worn, tied around the waist, or even tied to a backpack– that way, it won't count as an extra carry-on item.


Shoes

Some airports have surprisingly long walks between gates, without the luxury of a tram. So, it's always best to wear something comfortable.

Also be sure they can slip on and off easily for security checks, unless you have a TSA precheck.

I like to wear either sandals, or a slip-on shoe like Skechers loafers (bonus: memory foam soles!).

Sneakers or sports shoes can be comfortable for walking through the airport, but my experience is they tend to be really constricting on long-haul flights. Also, if you like to take off your shoes while you're in your seat, sneakers are more difficult...

Whenever I lean forward to put my shoes back on, I have to contort my neck in order to reach my feet– the leg room is small enough that my head hits the seat in front of me (and I'm only 5'7"! It'll be more difficult for someone who is really tall). Therefore, in my opinion, slip-on shoes are the way to go.